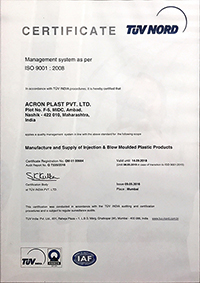 Acron Plast since inception has drawn powerfully on its belief in quality. Establishing a set of quality systems & infrastructure that has gained the highest levels of consistent customer acceptance. We have a dedicated QC Room for Injection & Blow Moldings.
To Build Quality Culture and Improve Product Quality & Reliability to Satisfy Current and Emerging Customer Needs.
To Implement ISO 9001-2008 Quality Management System and use it as the Driving Force in all our Operations for Continual Improvements.
We at Acron Plast Pvt Ltd are committed to become an icon in the manufacturing of Plastic Injection & Blow Molded Packaging Products through Innovation, Professionalism, Active Leadership in Product Quality and Sustain Growth by delivering Value to our Customers.
Quality Objective:
To be preferred supplier of plastic molded packaging product all over India with focus on.
Timely Delivery
To Continually improve in all areas of operation with special focus on Quality.
Price Competency (Value for money for Customers).
Improving customer satisfaction index.